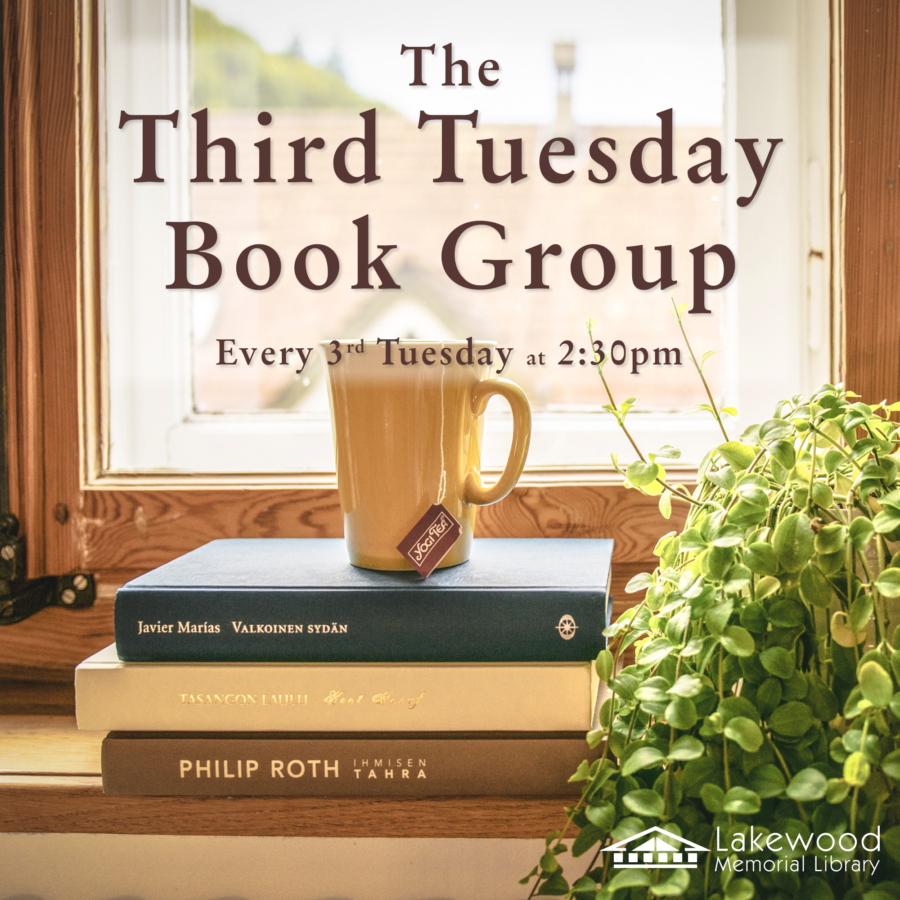 Third Tuesday Book Group
This Bookshelf does not exist

The Third Tuesday Book Group meets the third Tuesday of each month from 2:30-3:30pm.

Below are the selections for the 2022 calendar year:

January 18 – The Invisible Life of Addie LaRue by V E Schwab (F)

February 15 – Nomadland: surviving America in the 21st Century by Jessica Bruder (NF)
From the beet fields of North Dakota to the National Forest campgrounds of California to Amazon's CamperForce program in Texas, employers have discovered a new, low-cost labor pool, made up largely of transient older Americans. Finding that social security comes up short, often underwater on mortgages, these invisible casualties of the Great Recession have taken to the road by the tens of thousands in late-model RVs, travel trailers, and vans, forming a growing community of nomads: migrant laborers who call themselves "workampers."

March 15 – The Jane Austen Society by Natalie Jenner (F)
"Just after the Second World War, in the small English village of Chawton, an unusual but like-minded group of people bands together to attempt something remarkable. One hundred and fifty years ago, Chawton was the final home of Jane Austen, one of England's finest novelists. With the last bit of Austen's legacy threatened, a group of disparate individuals come together to preserve both Jane Austen's home and her legacy.

April 19 – PT-109: John F. Kennedy in WWII by Robert J. Donovan (NF)

May 17 – Necessary Lies by Diane Chamberlain (F)
After losing her parents, fifteen-year-old Ivy Hart is left to care for her grandmother, older sister and nephew as tenants on a small tobacco farm. As she struggles with her grandmother's aging, her sister's mental illness and her own epilepsy, she realizes they might need more than she can give. The new social worker tries to help, but discovers dark secrets.

June 21 – The Midnight Library by Matt Haig (F)
"Between life and death there is a library, and within that library, the shelves go on forever. Every book provides a chance to try another life you could have lived. Would you have done anything different, if you had the chance to undo your regrets?"

July 19 – What Could Be Saved by Leise O'Halloran Schwarz (F)
When a mysterious man claims to be her long-missing brother, a woman must confront her family's closely guarded secrets in this "delicious hybrid of mystery, drama, and elegance."

August 16 – This Time Next Year We'll All Be Laughing by Jacqueline Winspear (NF)
Author of the Maisie Dobbs series, after 16 novels, Winspear has taken the bold step of turning to memoir, revealing the hardships and joys of her family history. Both shockingly frank and deftly restrained, her story tackles the difficult, poignant, and fascinating accounts of her family.

September 20 – Lady Clementine by Marie Benedict (F)
This is a ferocious story of the ambitious woman beside Winston Churchill, the story of a partner who did not flinch through the sweeping darkness of war, and who would not surrender to expectations or to enemies.

October 18 – The Boys: a memoir of Hollywood and family by Ron & Clint Howard (NF)
Happy Days, The Andy Griffith Show, Gentle Ben – these shows captivated millions of TV viewers in the '60s and '70s. Join award-winning filmmaker Ron Howard and audience-favorite actor Cling Howard as they frankly and fondly share their unusual family story of navigating and surviving life as sibling child actors.

November 15 – Sooley by John Grisham
This time, John Grisham takes you to a different kind of court. In the summer of his 17th year, Samuel Sooleymon gets the chance of a lifetime: a trip to the US with his South Sudanese teammates to play in a showcase basketball tournament. Gripping and moving, Sooley showcases Grisham's unparalleled storytelling powers in a whole new light.

December 20 – West with the Giraffes by Lynda Rutledge (F based on a true story)
It's 1938. The Great Depression lingers. Hitler is threatening Europe, and world-weary Americans long for wonder. They find it in two giraffes who miraculously survive a hurricane while crossing the Atlantic. What follows is a twelve-day road trip in a custom truck to deliver Southern California's first giraffes to the San Diego Zoo.

January 17, 2023 – Vanderbilt: the rise and fall of an American dynasty by Anderson Cooper (NF)
Cornelius Vanderbilt's great-great-great-grandson Anderson Cooper joins with historian Katherine Howe to explore the story of his legendary family and their outsized influence.