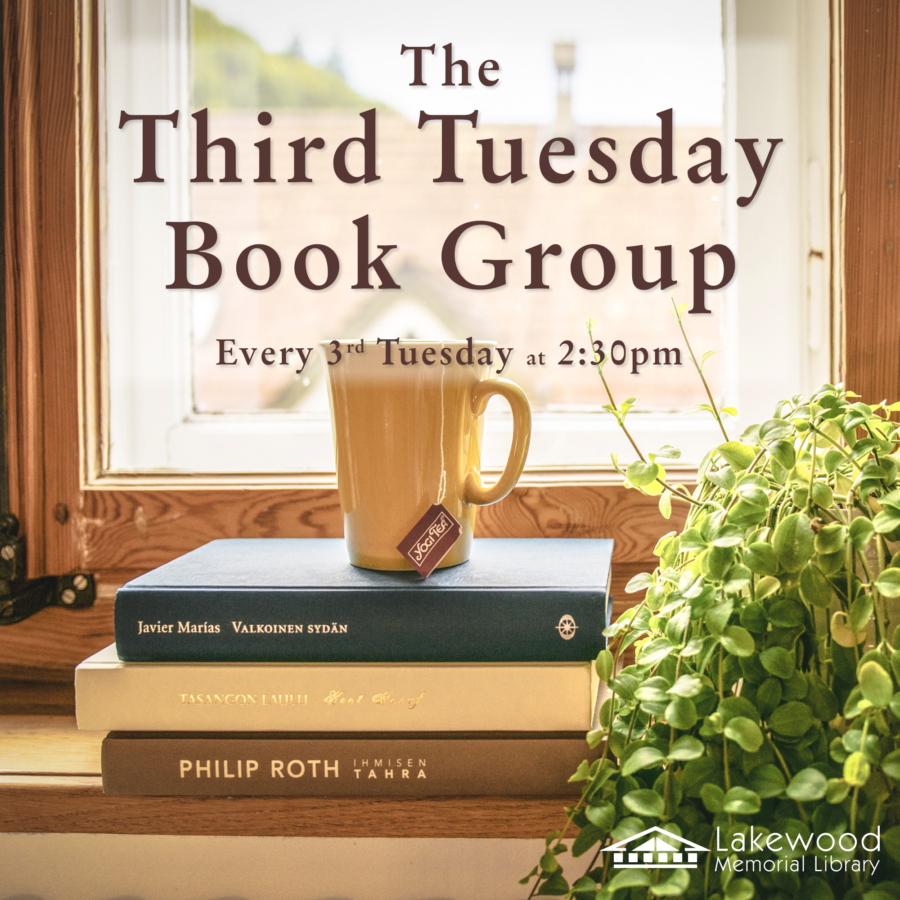 Third Tuesday Book Group
The Third Tuesday Book Group meets the third Tuesday of each month from 2:30-3:30pm.
Below are the selections for the 2023 calendar year:
Jan 17 – West with the Giraffes by Lynda Rutledge (Fiction) It's 1938. The Great Depression lingers. Hitler is threatening Europe, and world-weary Americans long for wonder. They find it in two giraffes who miraculously survive a hurricane while crossing the Atlantic. What follows is a twelve-day road trip in a custom truck to deliver Southern California's first giraffes to the San Diego Zoo.
Feb 21 – Vanderbilt: the rise and fall of an American dynasty by Anderson Cooper (Non-fiction) Cornelius Vanderbilt's great-great–great grandson Anderson Cooper joins with historian Katherine Howe to explore the story of his legendary family and their outsized influence.
Mar 21 – The Lincoln Highway by Amor Towles (Fiction) In June, 1954, eighteen-year-old Emmett Watson is driven home to Nebraska by the warden of the juvenile work farm where he has just served fifteen months for involuntary manslaughter. But when the warden drives away, Emmett discovers that two friends from the work farm have hidden themselves in the trunk of the warden's car. Together, they have hatched an altogether different plan for Emmett's future, one that will take them all on a fateful journey in the opposite direction-to the City of New York.
April 18 – When Ghosts Come Home by Wiley Cash (Fiction) When the roar of a low-flying plane awakens him in the middle of the night, Sheriff Winston Barnes knows something strange is happening at the nearby airfield on the coast of North Carolina. But nothing can prepare him for what he finds: a large airplane has crash-landed and is now sitting sideways on the runway, and there are no signs of a pilot or cargo.
May 16 – Wish You Were Here by Jodi Picoult (Fiction) Diana O'Toole knows her boyfriend, Finn, a surgical resident, is about to propose on their romantic getaway to the Galápagos—days before her thirtieth birthday. But then a virus that felt worlds away has appeared in the city, and on the eve of their departure, Finn breaks the news: It's all hands on deck at the hospital. He has to stay behind. You should still go, he says. And so, reluctantly, she goes.
June 20 – Horse by Geraldine Brooks (Fiction) A discarded painting in a junk pile, a skeleton in an attic, and the greatest racehorse in American history: from these strands, a Pulitzer Prize winner braids a sweeping story of spirit, obsession, and injustice across American history.
July 18 – Hamnet by Maggie O'Farrell (Fiction) A thrilling departure: a short, piercing, deeply moving novel about the death of Shakespeare's 11 year old son Hamnet–a name interchangeable with Hamlet in 15th century Britain– and the years leading up to the production of his great play.
Aug 15 – We Are the Light – by Matthew Quick (Fiction) Lucas Goodgame lives in Majestic, Pennsylvania, a quaint suburb that has been torn apart by a recent tragedy. Everyone in Majestic sees Lucas as a hero–everyone, that is, except Lucas himself. Lucas spends his time writing letters to his former Jungian analyst, Karl. It is only when Eli, an eighteenyear-old young man whom the community has ostracized, begins camping out in Lucas's backyard that an unlikely alliance takes shape and the two embark on a journey to heal their neighbors and, most importantly, themselves.
Sept 19 – The Lamplighters by Emma Stonex (Fiction) Inspired by a haunting true story, a gorgeous and atmospheric novel about the mysterious disappearance of three lighthouse keepers from a remote tower miles from the Cornish coast– and about the wives who were left behind. What strange fate befell these doomed men on New Year's Eve, 1972.
Oct 17 – The Lost Girls of Willowbrook by Ellen Wiseman (Fiction) Sage Winters always knew her twin sister Rosemary was a little different. Six years after Rosemary's death from pneumonia, Sage is stunned to discover that she didn't die, she was committed to Willowbrook State School and is now missing.
Nov 21 – Jamaica Inn by Daphne du Maurier (Fiction) The coachman tried to warn her away from the ruined, forbidding place on the rainswept Cornish coast. But young Mary Yellan chose instead to honor her mother's dying request that she join her frightened Aunt Patience and huge, hulking Uncle Joss Merlyn at Jamaica Inn. From her first glimpse on that raw November eve, she could sense the inn's dark power.
Dec 19 – Travels with Charley: in search of America by John Steinbeck (Non-fiction) In September 1960, John Steinbeck embarked on a journey across America. He felt that he might have lost touch with the country, with its speech, the smell of its grass and trees, its color and quality of light, the pulse of its people. To reassure himself, he set out on a voyage of rediscovery of the American identity, accompanied by a distinguished French poodle named Charley; and riding in a threequarter-ton pickup truck named Rocinante.
Jan 16, 2024 – All the Frequent Troubles of Our Days by Rebecca Donner (NF) Chautauqua Prize 2022 In this "stunning literary achievement," Donner chronicles the extraordinary life and brutal death of her great-great-aunt Mildred Harnack, the American leader of one of the largest underground resistance groups in Germany during WWII–"a page-turner story of espionage, love and betrayal."