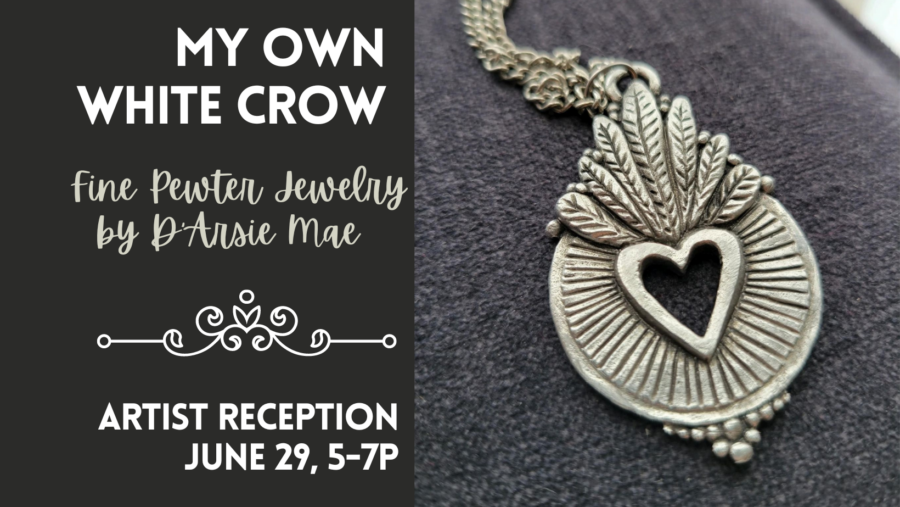 June Art Exhibit: My Own White Crow by D'Arsie Mae Manzella
The Lakewood Memorial Library welcomes a new fine jewelry exhibition by local artist D'Arsie Mae Manzella entitled "My Own White Crow". An artist reception is planned for Thursday, June 29th from 5-7pm. The public is invited to come meet the artist and celebrate her work.
D'Arsie describes her creative process: "Inspiration swirls around me daily. I might see a pattern and it will trigger a design. I sometimes dream ideas for my work. Nature inspires me constantly. It is the origin of beauty and cannot go unnoticed. The images and textures I take in are like visual ingredients in a creative melting pot. When I sit down to sculpt, I trust myself to play and to express my true self. For me it is a very spiritual experience. The ability to imagine something and to make it real to be touched and shared is a joy." Her creations will be on display throughout the month of June.
D'Arsie Mae Manzella is a jewelry designer working out of her studio in Fredonia, NY. Her designs have been published in Beadwork, Stringing and Belle Armoire Magazines and are collected worldwide. D'Arsie has designed custom work for the Chautauqua Bookstore and taught jewelry making classes at the Chautauqua Institution as well as teaching jewelry making and pottery classes through the CREATE Project funded by a grant from the Northern Chautauqua Community Foundation.